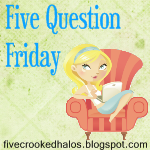 1. How often should adults have birthday parties?
Milestones. 21, 30, 40, etc.
2. What was your room decorated like when you were a child?
Light blue carper and butterfly wallpaper. Ugh.
3. Do you have any traditions for Easter? If so, what? and do you have a why behind that?
Just getting together with family and eating! Haven't decorated eggs in a couple years. Ex-husband gets in the way.
4. Do you get Good Friday off? If so, any plans?
Nope. I work at McDonald's. I only take days off as needed, and that's rare.
5. Did you wear hats & white shoes to church on Easter? (Or was that just in the South?)
NO. I don't even wear a dress! ICK!