Friday Five, brought to you by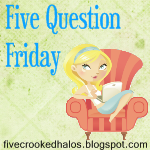 1. What's the one personal hygiene thing you will not do in front of your spouse?
No longer my spouse, but I did everything in front of him. I didn't care. I figure, If I can poop in front of him while giving birth, nothing much else will phase me! #TMI

Boyfriend, on the other hand? I don't even like brushing my teeth in front of him. Not that there's much opportunity for that, but still. If I've just come over from work and feel nasty, I brush my teeth. "Do you need something? Get out."
2. What's your favorite thing about a newborn?
I love their smell, BUT, I like the froggy legs they have when you pick them up. LOVE.
3. When is "too young" to have a Facebook account?
My kids have one, and they're 12 and 14. They're rarely on them though, because they don't even know the passwords, and I'm not letting them have the pw while they're at their dad's house.
4. What are your hoping for for Mother's Day?
A decent day with my kids. And no tears when I drop them back off. :-(
5. What was the best field trip you ever took in school?
It was in summer school, and it was a class devoted to field trips. Seriously. It was awesome. We went to the Metrodome once, and toured, AND got to go on to the field. My dad came with. It was the best.