This 5 Question Friday post brought to you by Mama M at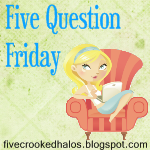 1. What holiday do you wish did not exist?
VALENTINE'S DAY!!! It's the obligatory one that makes me vomit.
2. What is your favorite romance/love movie?
Hope Floats.
3. Do you make a big production out of celebrating Valentine's Day?
Oh heck no. I'd raher avoid it altogether. I buy my kids some things, but that's it.
4. What is something weird you did as a child? (or even now!)
I'm way OCD about numbers and stuff. I never used to be. I don't like odd numbers, so the volume has to be on an even number, thermostat, etc. Bizzare.
5. What makes you love your husband, really LOVE him, you know since Valentines is coming up?
I'll tell you what's wonderful about my boyfriend: he's always willing to help me out if he's able. He's kind, generous, respectful, caring, and he plays the slugbug game with me in the car. That's true love right there.